Is Mariah Carey expecting something? Perhaps yes when it comes to her Grammy nominations. As for the baby, it seems not, at least for the moment.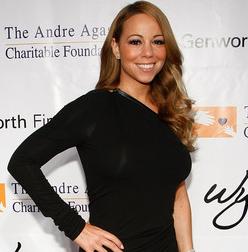 It doesn't mean that she hasn't been trying because she married much younger actor Nick Cannon last spring, the speculation is that Mariah Carey would soon be pregnant.
Last week, talk show host Ellen DeGeneres kept prodding her about it in an interview. She even tried to get her to drink Champagne. When Mariah only sipped it, Ellen declared: "You're pregnant!"
Well, there are plenty of other reasons not to drink on national television. But in this case, it wasn't pregnancy.
When asked if the stunning singer was knitting baby booties, a friend of Mariah Carey laughingly replied: "She isn't." The friend added that there was no sign of the stork yet.
What Mariah Carey may be expecting this week are Grammy nominations for her "E=MC²" album.
She's scheduled to be one of the hosts this Wednesday, Dec. 3, on the Grammy's prime time show on CBS. She, Taylor Swift and LL Cool J will announce nominees in six of the top categories.
Knowing the Grammys, they haven't asked Mariah to do it unless she's in good shape. "E=MC²" should pick up nods in Best R&B album, Best Pop album, and Best Female in both R&B and pop.