Rihanna is pursuing a basketball star.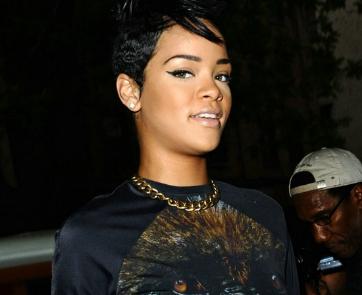 The "Umbrella" singer was in the crowd to see Orlando Magic play Los Angeles Lakers last week – as was her ex-lover Chris Brown – and friends claim she watched the game because she has a crush on Orlando player Rashard Lewis.
A source said: "Rihanna is trying to get to know Rashard. She's digging on him, and she hopes the feeling is mutual."
The singer was previously linked with Lakers star Andrew Bynum, but Rihanna's pals insist there is nothing romantic between them.
The source added to the New York Daily News newspaper: "Rihanna and Andrew are just friends, and they have been for a while. It's Rashard who she wants. She thinks he's hotter than hot."
In a bid to avoid Chris – who has been accused of assaulting the singer in February – Rihanna left straight after the game, and spent much of the half-time break in a hospitality lounge.
The 'Run It' star reportedly spent much of the game sneaking glances at his former girlfriend, and while she stayed away during the break, he came over to her friends to shake hands.
A source said: "Chris was definitely trying to make the situation less awkward. He was trying to be very grownup, and wanted Rihanna to see that as well."
Meanwhile, Rihanna shows off a fierce gorilla on her shirt while carrying a black umbrella in New York City on Monday (June 15).
The 21-year-old Bajan beauty got a lookalike (aka Teyana Taylor) and recently she spoke with TMZ and commented that Chris is "like a brother." They went to Game 5 of the Lakers/Magic basketball game in Orlando on Sunday.
The rapper Teyana also added: "I've always dressed like that. I've always had style … I've had that Mohawk now for months.
Comments
comments