Christina Aguilera has given birth to a boy, the pop singer announced on her Web site Sunday.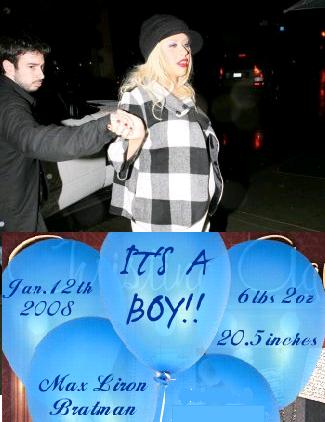 The brief message indicates, "Christina Aguilera and Jordan Bratman are proud to announce the birth of their son Max Liron Bratman. He is a beautiful, healthy baby boy."
The baby was born Saturday night and weighs 6 pounds, 2 ounces. Christina Aguilera was "resting and doing well," according to the message on her Web site.
The 27-year-old singer said that Saturday was "a very joyful and special day for Jordan and I." She posted a special message for her fans in her website, which indicates: Dear fans, Today is a very joyful and special day for Jordan and I as we welcome our first son into this world. In honor of our love for each other and our growing family, I have put together a special video for the song "Save Me From Myself" off my Back to Basics album. This video is very dear to me as it includes actual footage from our personal wedding video! Just a little something to say "thank you" for your undying love and support. It is in no small part because of you that I live such a blessed and wonderful life! Please download and enjoy… With all my love, Christina"
Meanwhile, there was no immediate response Sunday to several calls seeking additional comment from Christina Aguilera's representatives.
Christina Aguilera and Bratman married in 2005. The four-time Grammy Award winning singer has said she learned she was pregnant during her recent "Back to Basics" tour.
Comments
comments