Kate Middleton, who was celebrating her 26th birthday recently, showed off her super trim body as she took to the dance floor.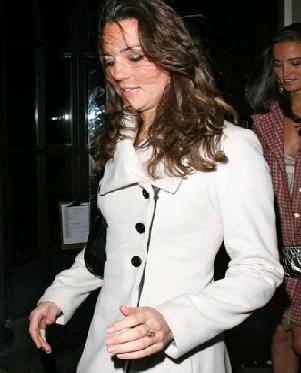 The girlfriend of Prince William got her groove on to two of Britney Spears' biggest hits, "Toxic" and "Gimme More".
Kate Middleton opted to party in the shadows of London's Kitts nightclub with only half a dozen close friends and family. However, her boyfriend Prince William wasn't by her side because the 25-year-old prince was in Lincolnshire for four months of grueling RAF training at Cranwell.
There was also no sign of Prince Harry, either and Kate Middleton even refused the embarrassment of a complimentary birthday cake from the club.
A source revealed, "Kate looked amazing on the dance floor. She shared some cheeky dances with a few male admirers. She was certainly on her game, beaming and throwing her hands in the air when Britney came on."
The source added, "She didn't seem to even notice her ice bucket of champers, which was left largely untouched. It took us a few hours to realize she was even there despite the club being half empty. She had no crowd. No entourage. She looked more intent on dancing and hugging her pals than drinking."
She twirled her patterned black shift dress until 2.45am before hanging up her heels and heading home.
Comments
comments