Britney Spears' bizarre behavior after checking out from the UCLA psychiatric ward has terrified her father, Jamie Spears, making him warn his daughter that she's "going to die".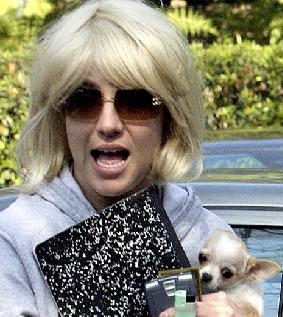 The "Gimme More" singer paid no attention to her parents' constant pleas to go back to hospital, saying, "I want my life back."
Her father and Lynne Spears pleaded a court to inflict an order to protect their daughter who is "at-risk", fearing a "tragedy".
The troubled pop singer, who was suffering from bipolar tragedy, was released 11 days in advance from UCLA Medical Center on February 6 after a court found there was "no just cause" for keeping her in.
Although Britney's father was shocked by the decision to release her, he still picked her up from the hospital, hoping to take her to a private clinic for more treatment.
However, Britney did not seem a least bit interested in continuing her treatment, and stormed: "There's no way I'm going back in."
Following a dispute, she later fled in her Mercedes and drove erratically around Los Angeles, and even threw a security guard hired by her dad out of the car, according to a report.
Then she tried to check in to the swanky Beverly Hills Hotel but all her credit cards were declined. However, she got a room eventually on the second floor of the swanky hotel where her snapper beau Adnan Ghalib joined her.
Finally, Spears' dad arrived at her room with two plain-clothed cops in tow to take her to the mental ward. After another fiery argument, Jamie told her to leave or be taken in a police car.
Hotel sources revealed that this made the pop star to scream at her father, saying "How could you do this to me?"
The source revealed, "Britney's dad begged her to go back to hospital. He told her he feared she would die if she didn't get medical help. She said she was so angry that they made her go to hospital. She screamed, 'You can't control me.'"
Ultimately, Britney agreed to leave and was secretly taken out by the back door to her Beverly Hills mansion, where she remained in tense discussions with her parents and Adnan. At around 12.30am, her red-eyed mum left and Jamie begged her to return to the hospital.
Britney's parents said, "We believe our daughter's life is at risk."
The troubled pop singer is scheduled to go to court to change an order that made her dad the controller of her financial and legal affairs.
Comments
comments