Jamie Lynn Spears, who just gave birth, set the media world into frenzy when she made the announcement ninth months ago.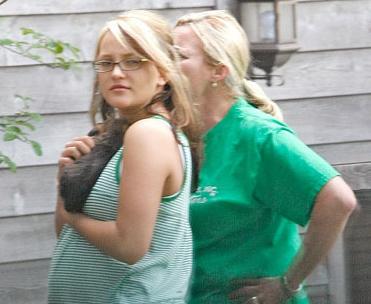 Now the "Zoey 101" star just had her baby girl, Maddie Briann yesterday. The actress already has published pictures of the baby, which you could see here.
The teen actress wrote this message on her MySpace, "I can't say it was something I was planning to do right now, But now that it's in my lap and that it's something I have to deal with, I'm looking forward to being the best mom I can be."
Date: Jun 20, 2008 8:28 PM
Subject: hey guys its Jamie..im on my iPhone
Body: lol thank you all guys for the comments and messages..i love you all guys
some of u are surprised about the name..but casey didnt actually like the other names.
Maddie Briann OMG now i really understand my mom lol.. sometimes she was overprotective but now i understand why.
Now Maddie is sleeping like an angel and im still in hospital..
I had a natural birth and yeah
thank u guys for the picture comment…
it really means a lot to me!!!!
Meanwhile, Jamie Lynn Spears has secretly wed her baby-daddy Casey Aldridge in a ceremony performed by a minister at their home – and no one in her immediate family was there, according to a report published this week.
A close source said, "Jamie Lynn and Casey got married in a quiet ceremony in their new house in Liberty, Miss."
The source continued, "Casey's family was there, but only one member of the Spears clan was present – one of Jamie Lynn's cousins. Neither of her parents nor her sister Britney nor her brother Bryan was invited. Jamie Lynn's mom Lynne has been against the marriage from the beginning and it's triggered big fights between them."
As a result, Jamie Lynn has drawn closer to 19 year old Casey's family, the source added, "Casey's parents think of Jamie Lynn as their daughter – and she regards them as her parents. She even calls Casey's mother Joyce 'Mom.'"
Comments
comments