Casey Aldridge, the father of Jamie Lynn Spears's 10-month-old daughter Maddie, was injured in a car accident early Sunday morning. Police have charged him with careless operation of a vehicle, which is a misdemeanor.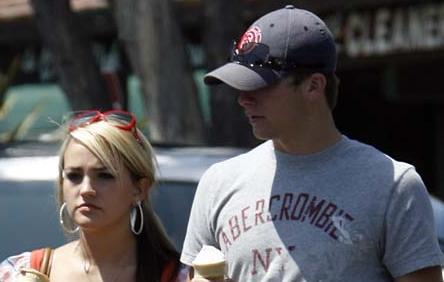 Spears, 18, as well as Aldridge's family – including his mother, father and sister – are at Casey's side where he is hospitalized at the University of Mississippi Medical Center, according to sources. Staff at the hospital would not confirm Aldridge is undergoing treatment there.
A family source revealed that Aldridge is fully alert, resting and talking to friends and family. "The doctors are pretty positive he's going to be okay," the source says. "He should recover fully. Of course you never know, but they're not expecting him to get any worse."
Doctors plan to keep Aldridge in the intensive care unit for three days "to keep a close check on him," the source adds. "They are planning no surgery unless something happens."
Aldridge, 19, was driving a 2008 Ford F-250 pickup when the wreck occurred at 1:30 a.m. Sunday near Lake Bruin in Tensas Parish, La., Master Trooper Billy Ziegler of Louisiana State Police tells PEOPLE. The accident happened in a stretch of road described as an entry and exit for Lake Bruin, a recreational lake that is a popular spot to fish.
After the accident, Aldridge was taken by ambulance to Riverland Medical Center in Vidalia, La., police say. There is no indication that he was tested for drug or alcohol usage.
A source said that Aldridge was attending a bachelor party for his cousin, when he and some friends decided to go crabbing. He was driving his truck with several passengers when it went off the shoulder of the road and flipped over, adds the source.
As for Spears, another source said: "This must be just horrible for Jamie Lynn. I know she loves him."
A representative for Spears has yet to comment.
UPDATE: Casey Aldridge may need surgery for a blood clot on his brain, according to sources close to the situation. He also has a broken ankle.
While Aldridge is in stable condition after crashing his Ford F-250 truck at approximately 1:30 a.m. Sunday (a one-car accident), he still may face an operation.
His condition is being monitored closely, the source said, as Casey slept on Sunday afternoon.  Doctors have warned his family members that when they believe his body is strong enough to handle it, Aldridge may go under the knife.
Comments
comments