Zac Efron makes his way through LAX airport in Los Angeles on Friday afternoon (April 24) to catch a flight.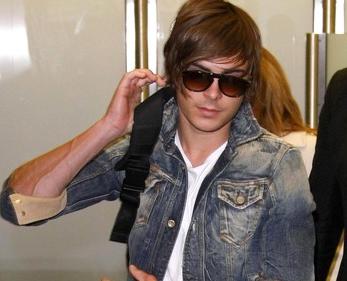 The 21-year-old actor, accompanied by his mom Starla, was very frustrated at the paparazzi. Zac even stopped after his handlers were getting pushed out of the way by the paps and even told one to stop after he said something out of line.
Zac is on his way to one of the last stops for his 17 Again promo tour.
Meanwhile, Zac Efron has found the perfect place to escape from pursuing paparazzi – he bribes security guards to let him hide in Hollywood studios.
The actor is hot property in Tinseltown – thanks, in part, to his romance with actress Vanessa Hudgens – and is among the top targets for Los Angeles' intrepid tabloid photographers, who stalk his every move.
Efron endures daily battles with snooping snappers, but is convinced he has found the ideal hiding spot – he disappears into an un-named L.A. studio lot whenever he's being followed.
The 21-year-old star explained to Gq magazine, "I've kinda got it figured out. I just pull into the lot, and they can't follow me."
But the High School Musical star admits there's a cost to the cunning hiding spot – he has to pay off security guards with signed memorabilia.
Efron added: "The first time I did it, they weren't going to let me in. The guy at the gate was like, 'What are you gonna do for me?' He's like, 'I got kids.' And I was like, 'Well, I got a poster in the trunk!' It's smart to keep some swag in the trunk, just in case."
Comments
comments