Jamie Lynn Spears, whose Nickelodeon TV show "Zoey 101" has been rumored to be axed since she revealed she was pregnant, has reportedly begun studying for the General Educational Development tests used to gain a high school equivalency degree.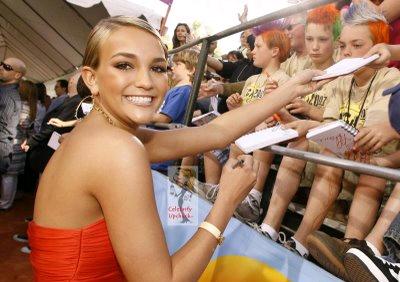 The 16-year-old actress was spotted leaving the Tangipahoa Parish School System Adult Education Centre in Hammond, Louisiana, on Friday (04 Jan 2008) carrying a GED book. The building also houses the Title I Parent Centre, which teaches parents how to help their children improve their reading skills.
The little sister of troubled pop star Britney Spears previously attended the prestigious Parklane Academy in McComb, Mississippi. Jamie Lynn Spears studied at the academy off-and-on for years, depending on her filming schedule.
A school staff-member claimed that Jamie enrolled at the school full-time in November, saying she had finished filming. After Thanksgiving, Jamie said she was needed back in Los Angeles.
The source revealed, "If Jamie had tried to stay, she would most probably have been expelled for being pregnant."
A spokesman for Parklane Academy refused to comment.
Comments
comments