Jamie Lynn Spears has recently landed in an magazine cover and she showed off her new baby girl.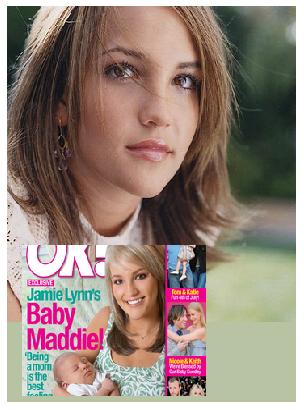 The "Zoey 101" star gave birth to daughter Maddie Briann on June 19. She was raising the baby with boyfriend Casey Aldridge in their Mississippi home. She revealed that being a mother was "so much fun."
The 17-year-old actress revealed, "I love taking care of her. It is so much fun. I just want to hug her and kiss her, and I'm happy all the time."
She also shared her plans to live in the South, saying, "Around here everyone has the same focus. The focus is family and that's a good way to live."
Here are the highlights of the interview:
On her pregnancy, she said, "I had a perfect pregnancy and a perfect delivery. I was very blessed."
On her dreams of being a soccer mom, she continued, "I would love being the soccer mom. They don't have soccer down here, but I would love being the softball mom driving the kids around."
On giving birth, she admitted that she had been nervous about giving birth "but it all fell into place. I was right on schedule. I had a perfect pregnancy and a perfect delivery. I was very blessed."
On her beau Casey Aldridge, Jamie Lynn Spears watched him holding their baby daughter for the first time and considered the touching moment as "the coolest thing. … He was so happy, and that made me the happiest person alive."
On her big day, she shared, "And being able to have your sister there, your whole family there, meant a lot. Everybody flew in to celebrate."
On Maddie's looks, she thought that her baby daughter looked like her beau, saying, "As much as I'd like her to look like me — I just carried her for nine months — she looks like Casey! He reminds me of it every day."
Other details: Maddie sleeps in a bassinet by the couple's bed because the actress revealed that she was "not ready to put her (in the nursery) all the way across the house."
Lynne Spears is a hands-on with taking the baby routine, she added, "Mama has been here a bunch.
She wants to see the baby all the time. She told me the doctors are always going to be real strict and tell you, 'Don't do this and don't do that.' Just follow your instincts. You're the mother and you know what your baby needs. That's what I've done and it seems to have worked."
Jamie Lynn, who recently starred on the Nickelodeon sitcom "Zoey 101," said she plans to raise Maddie down South where "the focus is family."
She also added, "I would love being the soccer mom. They don't have soccer down here, but I would love being the softball mom driving the kids around."
Comments
comments