Jamie Lynn Spears has reportedly walked into studio to make a country music album.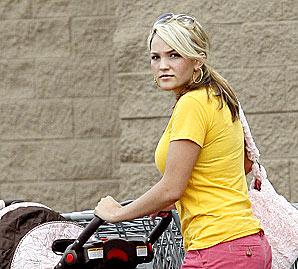 According to a report, Jamie Lynn Spears wants to try her hand at country music. Britney Spears' baby sis has relocated to Mississippi since the birth of her daughter, Maddie, and "has quietly been working on a country album since last fall," says a source close to the family.
Up to now, Jamie Lynn's only musical credit has been warbling the theme song to her now canceled Nickelodeon series Zoey 101, but that hasn't stopped Team Spears from "trying to get Jamie Lynn a record deal," says another insider.
The 17-year-old Spears recently recorded demo tracks in Nashville but has yet to land a label. Still, the sessions mark the first attempt for Spears to get back into the entertainment game since she and fiancé Casey Aldridge welcomed Maddie last June.
While the Spears family declined to comment on Jamie Lynn's new venture, she did tell the Associated Press in 2002 that crooning was in her future.
"I'll probably do a lot of acting first, then go to singing," she said, "but I am going to definitely sing someday. So when I do start singing, buy my album!"
Jamie's talent as a singer has been shown since she played in Nickelodeon's TV series "Zoey 101". In addition to playing one of the TV show's main characters Zoey Brooks, Jamie also sang a song called "Follow Me", which served as an opening theme for the TV series.
Comments
comments