Britney Spears, who has paparazzi that follows her every moment, appeared to deal with crazed critics from off the streets.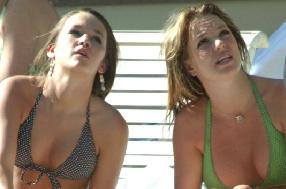 When Britney Spears and her sister Jamie Lynne were walking from the car to a sushi restaurant on Sunday, a crazed woman pushed through photographers to let the troubled pop singer know that she was not wanted in the neighborhood.
A video footage showed that the woman, who approached the Spears sisters, yelled "Nobody wants you in this neighborhood! … You're making the neighborhood unsafe!"
Jamie Lynne, who came to her sister's defense, turned around to shout in the woman's face, "Then move the f*** outta the neighborhood."
Although the comment did little to discourage the woman, paparazzi made a loud cheer for Jamie Lynne, who defended her sister against outspoken critics.
After the sisters made it safely into the restaurant, the woman continued on her rant and placed in her two-cents against celebrities like Nicole Richie and Madonna.
Comments
comments