Vanessa Hudgens and Miley Cyrus, who are both Disney stars, have been under fire of late. Vanessa Hudgens suffered controversy from photos scandal that embarrassed the star and her network. Miley Cyrus has been hit from two angles, one that was not even close to being her fault.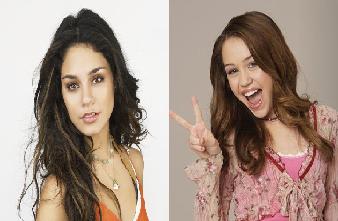 The fourteen year old Disney star was slammed with false reports that she was pregnant complete with a phony magazine article from the popular teen magazine J-14 that was doctored to make it look like she was actually commenting on the alleged pregnancy. The online reports and buzz drove the young star to tears reports claimed.
Then her wildly successful upcoming concert series is so popular that parents and fans alike are furious that they can't get tickets even after they joined the "Hannah Montana Fan Club." Many are furious they can't get tickets at face value and scalpers and ticket brokers are asking exorbitant rates for the tickets for Miley's concerts. Some reports have tickets as high as three grand for one show.
Politicians and other government officials are weighing in and demanding an explanation on why concert tickets aimed at teens and younger are so expensive. While many argue that this has nothing to do with Hannah Montana other believe that the fact that they shelled out cash to join her fan club only to be shut out for tickets is enough to get her some of the blame.
Both Disney stars are trying to bounce back. They were among the young stars that attended the Power of Youth Street Fair benefiting St. Jude's Children's Research Hospital in Los Angeles, California over the weekend.
Comments
comments