In a rare open-court hearing this afternoon, Britney Spears' father Jamie Spears testified against her former constant companion, Sam Lutfi, whom he labeled as a "predator" and "very dangerous."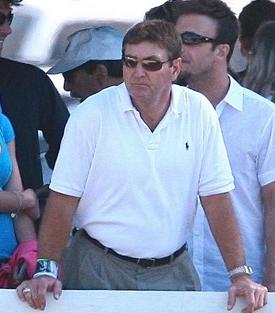 The testimony from Papa Spears was part of a hearing to determine whether or not restraining orders against Lutfi and Brit's ex-boyfriend, photographer Adnan Ghalib, should be extended. The actual hearing isn't until Wednesday, but Jamie testified today because he will be out of town.
In his testimony, Brit's dad recalled how he discovered how he believes that Sam, who has been forbidden from contacting the pop star for almost a year, was keeping in touch with her.
According to Jamie, Britney's nanny discovered the singer talking on a cell phone in her room during the wee hours of the night. Problem is — Brit-Brit is not allowed to have a cell phone. She must use either her father's phone or the house phone.
So when his daughter was away from the house one day, he had her head of security go through Britney's purse, where he discovered a prepaid Nokia cell phone. He then confronted her with discovery and she explained that someone had given it to her while she was at the Peninsula Hotel. Per Jamie's testimony, the person handed it to Brit and said, "This is from Sam and Adnan. Take the phone."
Perusing the numbers on the phone, Jamie saw several calls to people he believed to be Sam — using the code name "CityGalN310" — and Adnan, who supposedly used the code name "Ruba."
On Jan. 10, Sam, using the CityGalN310 name, allegedly sent several texts to Jamie before ultimately calling him on the phone, saying: "Sam wanted to know if he could help me in any way. He began to cry and fall apart. His mother and family is very upset because I had given him a bad name."
About the texts, Jamie testified: "They were very disturbing. They felt like a threat… like someone was trying to extort my daughter."
And Brit's dad wasn't done with the harsh talk, as he then described Lutfi as a "predator… He's very dangerous to my daughter, controling. He causes her a lot of anguish and disbelief in her mind and that she's lost without him."
While Adnan was neither present at the hearing, nor did he send legal representation, Sam's lawyer Brian Freedman maintained that his client is not a threat, that there's no evidence at this point that CityGal is indeed Sam or that his client had even called Britney in the first place.
During a break in the hearing, Freedman revealed that restraining orders were "created for stalkers, but there isn't anything in Jamie's testimony or in the court papers that prove Sam and Britney even had one actual confirmed phone conversation. It's hard to prove 'harrassment' if you can't prove they've even talked once in 11 months."
Comments
comments