Jayde Nicole, who previously became the "Playboy Playmate of the Month," has exclusively revealed that she will be featured in the June 2008 issue.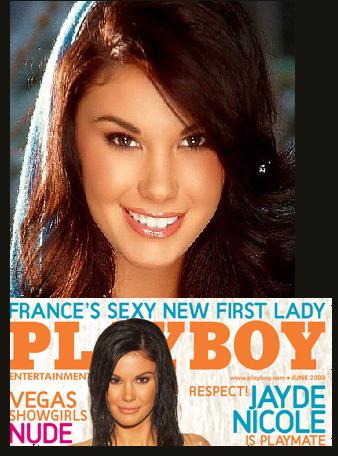 The  22-year-old Canadian model, who could see her Playboy magazine preview here or here, began modeling for catalogs and fashion shows at age six.
The "Playmate of the Year" described herself as a small town girl, saying, "And I mean SMALL town, lol. I am about 5 9′, 117 pounds, hazel eyes and very dark brown, long hair. I am 100% all natural, although some people choose not to believe that."
Other details about the Canadian model according to her myspace profile:
Her small tattoo means RESPECT.

Her whole life is music but rock music is definitely her favorite. She revealed, "I'm currently learning how to play the guitar. I'm not very good yet, lol. But its something I've always wanted to do, so I'm just doing it!"

She loves to travel. Aruba is one of my favorite spots but there are a lot of places she haven't been yet.

I have a Tea-Cup Chihuahua named Pumpkin. He is 3 years old and weighs about 3 pounds. He is my baby and I adore him!

I love my true friends and would do anything for them, like they would do for me. I think that your real friends really make you who you are and help you get through life's tough times!
Comments
comments