Miley Cyrus has sparked another controversy with her Vanity Fair photos.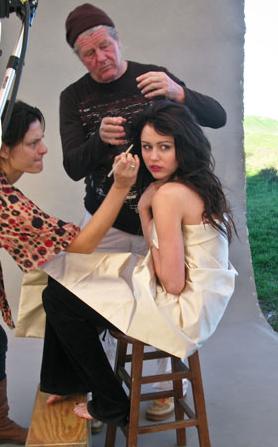 The "Hannah Montana" star, which was featured in the latest issue of the magazine here, wears nothing more than a bed sheet and sly grin.
The photos, which was taken by the photographer Annie Leibovitz, is being published shortly after other photos have been circulated on the Internet snuggling with what appears to be her boyfriend.
There seems to be confusion as to how the photo came about. Miley Cyrus is initially quoted by the write of the Vanity Fair for which the picture was taken as being happy with the image. However, in a recent statement of the teen star revealed, "I took part in a photo shoot that was supposed to be "artistic" and now, seeing the photographs and reading the story, I feel so embarrassed. I never intended for any of this to happen and I apologize to my fans who I care so deeply about."
Meanwhile, Annie Leibovitz, who is the 58-year-old photographer, countered claims from Disney that 15-year-old Cyrus was duped into racy poses, saying, "I'm sorry that my portrait of Miley has been misinterpreted. Miley and I looked at fashion photographs together and we discussed the picture in that context before we shot it. The photograph is a simple, classic portrait, shot with very little makeup, and I think it is very beautiful."
Bruce Handy revealed, "I think it's really artsy. It wasn't in a skanky way." Additionally, Vanity Fair representative Beth Kseniak indicated that Miley's parents were present for the shoot and "everyone thought it was a beautiful and natural portrait of Miley."
Comments
comments