Looks like Jennifer Aniston isn't following in former Brad Pitt's footsteps. Tabloid Star reports that Pitt, 45, is giving Aniston, 40, advice about adopting a baby boy. It also says the actress — currently in NYC filming The Baster — will spend $250,000 on a nursery.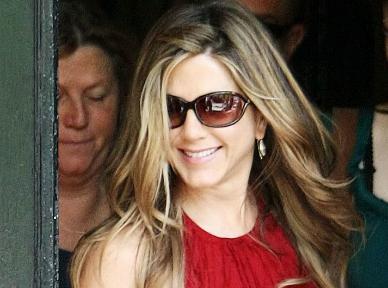 "They are completely wrong," according to a source.
That doesn't mean that Aniston doesn't want kids one day.
"The women who inspire me are the ones with families and children and who keep on working. Why would I wish to limit myself?" she told UK Hello! in March. "I want to have it all. At the moment, I'm doing pretty well. Were there times when I had a little 'pity party' for myself? Of course. Who hasn't done that?"
Meanwhile, a smiling Jennifer Aniston steps out in a pair of Havaianas flip-flops as she walks to the set of her new movie, The Baster in New York City on Wednesday afternoon (April 29).