Jennifer Aniston and Demi Moore have a lot of things in common: blooming romance and celebrities who were included in Hollywood's hottest cougars.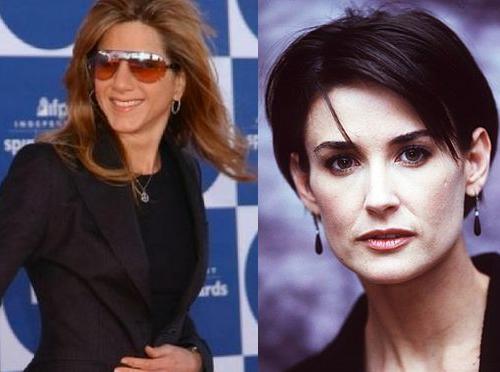 Jennifer Aniston, who hits the headlines with her romance with John Mayer, would be one of the sexiest celebrities in Hollywood. Is the actress really a cougar? She may be thirty-nine years old so it might be pushing it, but she is number ten on the list.
When it comes to women dating younger men but she does have her limits, the "Friends" beauty said, "I think it's great. Twenty-one is pushing it, though." For now, she's happy with John Mayer, 30, who may be younger but understands good old-fashioned chivalry, according to the insider.
The insider described John Mayer as a man who is into "opening doors, standing when a woman comes to the table, stuff like that."
The singer shares a piece of advice: "I find being a nice guy helps with women. Politeness, conversation – it all goes a long way."
Demi Moore has landed the number one spot in the list of Hollywood cougar or the woman that made dating younger guys cool in Hollywood.
The "Charlie's Angels" actress revealed, "If somebody would have said, 'You're going to meet a man 25 years old and he's going to see being with you and having your three children as a bonus,' I would have said, 'Keep dreaming."
But Ashton Kutcher, now, 30, turned out to be a dream come true. The celebrity couple has been married since 2005.
Demi Moore, who dressed as an old woman in a Saturday Night Live spoof opposite her husband, added, "At the risk of sounding really cliché, he's really an old soul."
Her husband Ashton added, "I don't care what people think. Demi's the one for me, and I love her."


The rest of the list Hollywood's hottest cougars:
2 – Halle Berry, 41 (model Gabriel Aubry, 32)
3 – Kim Cattrall, 51, (chef, Alan Wyse, 28)
4 – Ivana Trump, 59 (4th husband, Rossano Rubicondi, [italian model/actor],36)
5 – Susan Sarandon, 61 (Tim Robbins, 49)
6 – Julianne Moore, 47 (Bart Freundlich, director, 38)
7 – Barbara Hershey, 60 (Lost's Naveen Andrews, 39)
8 – Mariah Carey, 39 (Nick Cannon, 28)
9 – Linda Hogan, 48 (boyfriend, 19)
Comments
comments