Jennifer Aniston went out on a dinner date with John Mayer at La Esquina Cafe and Restaurant after the actress had categorically confirmed that she is dating John Mayer on the Oprah Winfrey show that aired Thursday, November 13.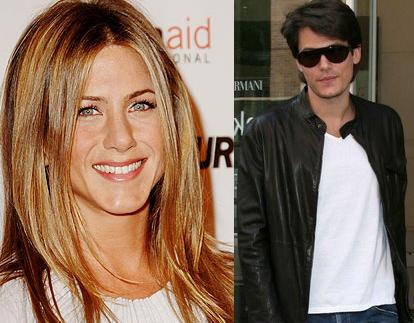 Jennifer Aniston and John Mayer left the restaurant separately but met up again at Goldbar Club. Later, they left the club together and headed back to their hotel in New York City.
The actress opened up about her relationship with John Mayer for the first time during her appearance on the Oprah Winfrey show.
To set the record straight, Oprah asked Jennifer: "Dating John Mayer: Yes or no?" The actress immediately replied: "Yes."
"Pregnant or not?" The actress responded: "No."
"So if you're not pregnant, you're definitely not expecting twins, right?" The actress confirmed: "No twins." She joked: "I'm still nauseous."
Jennifer Aniston and John Mayer appear to have settled into a warmer and more assertive relationship since reconnecting in early October, after their breakup in August, but Mayer has yet to reconcile to the paparazzi attention that comes with dating a high profile star.
Speaking to OK! magazine at the Keep a Child Alive event in NYC on Thursday, John Mayer revealed it was a challenge for him to write personal songs because of the intense media scrutiny, saying: "You just have to be a better writer. You just have to write better so you can take your experiences and process them in a way that people can relate to without going, 'Oh, he's singing about so and so. I don't feel like he's connecting with me. I feel like he's reminding me of what I already know about him.'"
Comments
comments