Jennifer Aniston gets up close and personal with her toyboy lover, musician John Mayer, and clearly doesn't care who notices.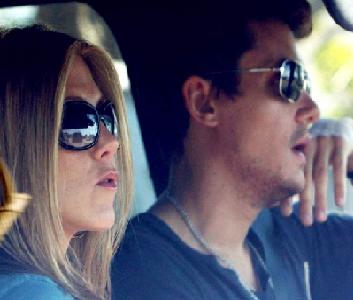 The former "Friends" star canoodled with Mayer, 30, at the wrap party for her new movie, "Marley and Me".
She obviously looked mesmerized as she stared in the Grammy award-winning musician's eyes, and then moved in to lock lips as they lounged at the party in Miami.
John Mayer, the guitarist, has dated a string of other Hollywood beauties, including Jennifer Love-Hewitt and Jessica Simpson and friends fear Brad Pitt's former wife may be heading for further heartache.
The romance of the celebrity pair seems getting serious after Jennifer Aniston has introduced him to her best friend Courteney Cox.
The 39-year-old actress' relationship with John Mayer was made public last month when the celebrity pair were snapped cuddling by a pool in Miami, where Jennifer Aniston has been filming her new movie "Marley & Me" with Owen Wilson.
After taking their cross-State romance from Miami to New York, Jennifer Aniston and John Mayer made their Los Angeles debut as a couple with a laid-back romantic weekend.
On Sunday, John Mayer drove his new girlfriend to the beachside Malibu home of her closest pal and former "Friends" co-star Cox and her husband David Arquette for an evening dinner.
The following day, Mayer took the steering wheel again as they rode in his Porsche Cayenne Turbo to the Cox-Arquettes' gated beachside home, where they live with their young daughter Coco, who is Jennifer Aniston's goddaughter.
A friend revealed, "John's a bit uneasy about it – it's like meeting your lover's mom for the first time. Jen laughs and tells him Courteney just wants to pinch and poke the product."
Comments
comments