Jennifer Aniston finally beats Brad Pitt as both Hollywood stars had movies in competition for the top spot on Christmas Day, and while Aniston's film pulled in the most money, both movies were winners at the box office.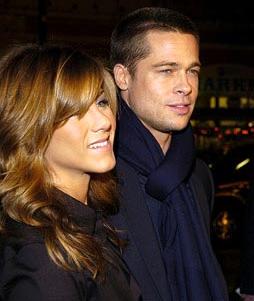 Jennifer Aniston's "Marley & Me", a feel-good movie costarring Owen Wilson about a young family and mischievous dog, was the leader of the pack, grossing $14.8 million, the highest one-day total ever for a film opening on Christmas.
But Brad Pitt's "The Curious Case of Benjamin Button" wasn't far behind. The movie set the record for the second-highest Christmas opening of all-time with $11.8 million.
Both films exceeded box office expectations by 40-50 percent, Variety reports.
Coming in third was Adam Sandler's Bedtime Stories which raked in $10.4 million in sales, followed by Valkyrie starring Tom Cruise with $8.5 million.
Jennifer Aniston wished Pitt success during her appearance on The Oprah Winfey show in November, saying: "We all want our movie to do well…Can we have a tie?"
And though Jennifer Aniston is leading in ticket sales, there is still hope for Brad Pitt. He is up for Best Performance by an Actor in a Drama for his role in The Curious Case of Benjamin Button and scored Screen Actors Guild Award nod this month.
Comments
comments