Tom Cruise and Katie Holmes are set to spend $6,000 on wrapping paper this Christmas.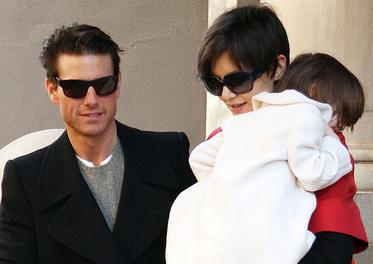 The celebrity couple are believed to want to impress friends and family by wrapping gifts in expensive paper.
A source revealed: "Tom and Katie are planning to wrap each present in $60 worth of wrapping paper and then put a $140 Jay Strongwater ornament on the top. With all the presents they have to send, they are going to be spending at least $6,000 on the paper alone."
Last year, Katie designed her family's Christmas card, sent out on behalf of her, Tom, Suri and Tom's two adopted children Bella and Connor with former wife Nicole Kidman.
The burgundy, cream and brown festive card, which had a brown and burgundy ribbon trim, bore the message, "Happy holidays and best wishes for a joyous new year. Love Tom, Kate, Bella, Connor and Suri" in a brown sweeping font.
A source said: "Katie is determined to make Christmas a classy affair, and even has a different gift-wrap design for her family, friends and business associates."
Meanwhile, The reviews are in for Valkyrie, Tom Cruise's World War II epic about Claus von Stauffenberg, a German soldier who became disillusioned with the Nazi cause and tried to assassinate Hitler.
The film, which opened Christmas Day and took in $8.57 million, has been strongly lauded for its high production value, but the reviews for Cruise's performance are mixed.
Fox News calls the actor's performance "awful," and many critics agree that Cruise's profile as one of the most famous actors in the world is detrimental to the film.
"He's distractingly bad," writes the Associated Press's Christy Lemire, "the iconography of his celebrity so strongly overshadowing his performance."
"Tom Cruise the movie star never disappears into Claus von Stauffenberg the brilliant military man," agrees The Seattle Times critic Moira McDonald.
The New York Times's Manohla Dargis defends Cruise's "fine, typically energetic performance in a film that requires nothing more of him than a profile and vigor," but also concurs that the actor is "too modern, too American and way too Tom Cruise to make sense in the role."
Comments
comments