When Brad Pitt split up with Jennifer Aniston and started dating his Mr. & Mrs. Smith co-star Angelina Jolie in early 2005, no one was more loyal to Jen than Courteney Cox. She comforted her pal as any best friend would and shunned the man who broke Jen's heart.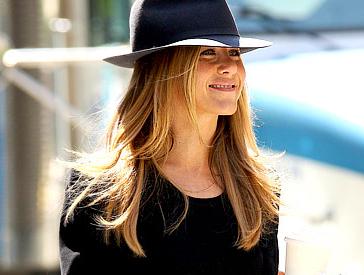 Even Courteney's husband, actor David Arquette, took Jen's side and bad-mouthed Brad, telling Howard Stern in a radio interview that Brad "did some stuff that hurt our friend." David also implied that Brad and Jen would never have divorced had it not been for Brad's romance with Angelina.
But Courteney and David's attitude toward Jen's ex seems to have softened recently. On May 3, the couple got chummy with Brad at the dinner party of a mutual friend before meeting up backstage at a Chris Cornell concert at LA's Wiltern theater, where the group reportedly spent time laughing about the old days. Plus, Courteney and David reportedly approached Brad and Angelina at the 2007 Golden Globe Awards (Jen was not in attendance), giving him a warm greeting — and even saying hello to Angie! Jen, according to reports, was furious about it.
But the friendship may still be able to bounce back. Jen's in NYC filming the comedy The Baster, but when she gets back, "she and Courteney can make up for lost time and repair the damage," says an insider. "If they can't do that before Jen has to leave town again for her next project, things won't get better. They'll get much, much worse."
Comments
comments