It's a greeting which seems to have gained in popularity in the wake of Barack Obama's White House residency, and this week Prince William adopted the high five salute when meeting a young football fan.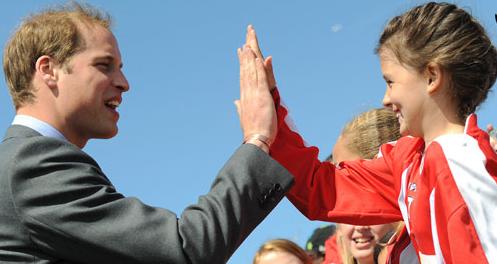 The 26-year-old royal slapped palms with 11-year-old Lorna Bradnock during his visit to Kingshurst Sporting FC in Birmingham. William, who's president of The Football Association, also worked another Presidential greeting, touching knuckles with a young lad.
During his visit Wills, who's well-known as a supporter of the club's rivals Aston Villa, came in for a bit of good-natured ribbing from one young Birmingham City fan. Teasing the royal visitor over his allegiances, he joked: "Villa smells". To which Wills countered: "I'm proud to be a Villain!".
Then, under the watchful eye of one his heroes, Villa player Ashley Young, the Prince showed off his ball skills on a brief kickabout.
Asked afterwards who was more starstruck, Ashley replied: "I think it was me – it's not every day you get to meet a Prince". The soccer ace's nerves soon vanished, however, as Wills seized the opportunity to grill him for insider information about his favorite team.
Comments
comments