After four years of daring comments, "uncool" quips and suggestive remarks, the long anticipated face-to-face meeting between A-list adversaries Angelina Jolie and Jennifer Aniston at the 81st Academy Awards was quietly anti-climactic — with good reason.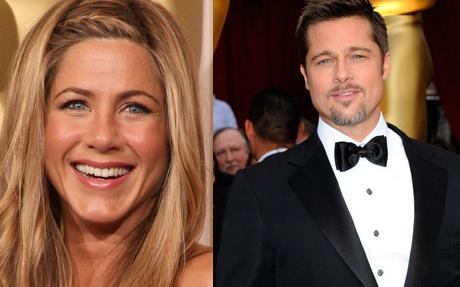 An insider revealed of their Feb. 22 run-in: "Jen couldn't have cared less whether Angie was at the Oscars. Her mind was fixated on her ex-husband Brad Pitt."
A radiant Jen seemed not to notice her so-called rival Angie, focusing instead on the man who has become a father of six since leaving her in 2005.
And although Jen, 40, appears to have found love again with John Mayer, 31, she is still troubled by the past.
The source said: "Once her eyes met Brad's that night, it rekindled all the old feelings. She has never stopped loving Brad."
And the feelings may be mutual! The source explained: "Just because Brad was swept off his feet by Angelina, it didn't mean he stopped loving Jen. He has this obsession with Angelina and he felt he had to explore a relationship with her."
However, the 45-year-old star of The Curious Case of Benjamin Button did not intend for his relationship with Angie to become so serious, so soon after his split from Jen.
The insider added of the shocking romance that blossomed on the set of the Jolie-Pitt action flick Mr. & Mrs. Smith in 2005: "Things just seemed to snowball and the next thing Brad knew, he had six kids. There was no turning back."
Comments
comments