Newly single Jennifer Aniston has burrowed herself in her business, which currently is the filming of her new romantic comedy "The Baster" in New York.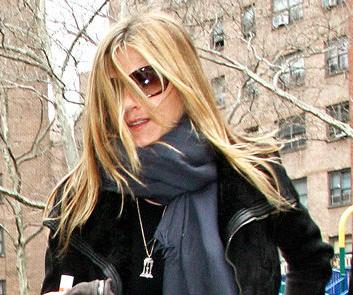 The 40-year-old former "Friends star" looked fit and stylish wearing a black suede cropped jacket atop a black top, blue slim jeans and a grey scarf wrapped around her neck.
She accessorized with a grey oversized hobo bag, black shoes, brown sunglasses and a bell pendant necklace. Her signature high maintenance blond hair was flying all over her face.
Even all that hair in her face can't dim what Jennifer Aniston has going on.
The be-scarved actress shows up at a production office for her upcoming flick "The Baster" in NYC on March 26.
Will Speck and Josh Gordon are directing the film with Jason Bateman as Jennifer Aniston's lead man.
The film is the story of a 40- year-old woman who resorts to artificial insemination to get pregnant.
Comments
comments