Hordes of screaming teenage girls, their faces painted with lovehearts and the word Zac, began gathering in Leicester Square at 7am.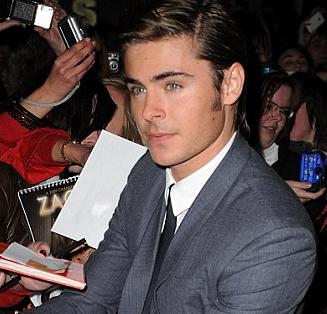 Some of them skipped school to get spaces in front of the barrier to catch a glimpse of American actor Zac Efron.
Zac Efron signs autographs for screaming fans as he attends the UK premiere of 17 Again at the Odeon West End in London, England on Thursday (March 26).
17 Again features Zac as the younger version of Friends actor Matthew Perry, who plays a father whose life hasn't gone to plan but gets a second chance when he wakes up in Zac's body.
Zac, however, appears anxious to make a name for himself as a serious actor. He recently turned down the lead part in a remake of the film Footloose.
A source said: 'Zac wants to be in the business a long time — doing more musicals isn't good for him long-term.'
The 21-year-old actor spoke about getting appendicitis and what his co-star Thomas Lennon advised him do! "I didn't know what it was at the time and I was just trying to get through a day's work," said Zac. Tom [Thomas Lennon] kept telling me, 'Dude, just eat some Beano; it's gas, eat Beano,' " and I'm like, " 'I don't think so, it doesn't hurt like that.' " And he's like, " 'No, I swear, if the worst comes to the worst, hang upside down.' " That was Tom's advice. [laughing.] He's like, " 'Go hang upside down in your trailer,' " and I'm like, " 'What?!?!'
Comments
comments