Jennifer Aniston famously spent £40,000 flying her trusted stylist Chris McMillan from the US to London to ensure her locks stayed in perfect condition.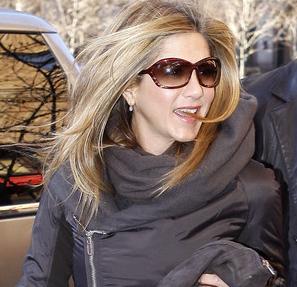 It was believed that the pair have cooled their friendship and Chris is not working on her new movie.
A source revealed: "Chris is instructing someone else on how to do Jen's hair because he's not on set. Chris is focused on building his celebrity clientele and Jennifer wants to experiment with her look."
Meanwhile, after splitting from John Mayer for a second time, Jennifer Aniston is now reportedly preparing to become a single mum.
The actress is said to be so desperate to have children she is considering adopting or using donated sperm.
A source said: "In a perfect world, she'd get pregnant naturally. But if 'Mr. Right' doesn't show up, she's willing to adopt or try in vitro fertilization using donated sperm."
The source continued: "She is working out how she wants to proceed. But one thing is definite – she wants a baby, and she wants one soon. She is willing to become a single mother."
Although Jen may be disappointed things didn't work out with John, she accepts it was too soon for him to become a father.
The source added: "She was hoping to have a baby with him. But I think deep down she knew he probably felt he wasn't ready to settle down and start a family. She has decided to go ahead and have a baby on her own. She knows the one luxury she doesn't have right now is time."
Comments
comments