Jennifer Aniston appeared that she was not ready to face the cameras, as the newly-single actress left her New York hotel for her film set today she hid her face beneath an enormous hoodie.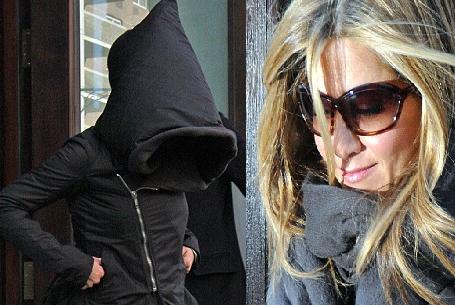 Perhaps Jennifer had yet to apply her lipgloss – by the time she left the theater a few hours later she had pulled the hoodie back, and exposed her perfect make-up.
Yesterday reports surfaced that she dumped on/off boyfriend John Mayer over his obsession with micro-blogging site Twitter.
During the actress's trip to Europe earlier this month, to promote her new film Marley & Me, she was apparently infuriated when the musician claimed he was too busy to return her calls, but found time to update his Twitter page.
The couple split last week after a rocky 11-month romance, with John writing on his Twitter page, just days later, 'this heart didn't come with instructions'.
Following the split, Jennifer has thrown herself back into work after relocating to New York to start on her new comedy film The Baster.
The actress was spotted looking stony-faced as she left her Manhattan hotel clutching a script on Monday.
Comments
comments