Jennifer Aniston graced the a private charity cocktail party given at the home of her pal Courteney Cox's talent agent Eric Kranzler in West Hollywood on a Friday night.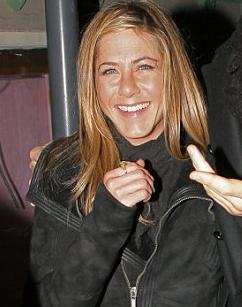 The charity is called "Feeding America", and it's attracted the likes of David Arquette, Courteney's actor husband, and singer Sheryl Crow.
The cocktail party included the celebrities such as Leonardo DiCaprio, Kevin Connolly, Bar Rafaeli, Sheryl Crow, Gwen Stefani etc.
And then there was Jennifer Aniston. She turns 40 next month and looks about 30. Plastic surgery? For all the tabloid speculation, Jen looks pretty normal. She also acts pretty normal. What a disappointment! She's just a lovely young woman with a good sense of humor and lots of close friends.
We talked about the success of "Marley and Me," which she said was a hard movie to make. We talked about her dad, John, who's still on "Days of Our Lives" — and is now 75.
The actress revealed: "He's amazing, he just keeps going." She told me about a movie she made called "Traveling" with Aaron Eckhart, and said that she's looking for scripts.
"How is she doing?" I asked. (I mean, considering the onslaught of publicity, the ex-husband, his baby-producing lady friend, the singer-boyfriend, etc.)
"I'm doing fine, great, really," Jen said. And she meant it. She certainly looked it, too, as she and Courteney made plans to take some friends out for a Chinese dinner in West Hollywood.
Meanwhile, Jennifer Aniston was spotted after stopping by her office earlier in the day. The actress went home, primped and hit the town for dinner last night but John Mayer is not spotted at that time.
Comments
comments