It might have been the day after Easter, but Jennifer Aniston was still hard at work.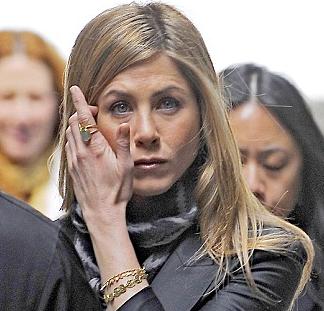 While others enjoyed an extended break the actress took barely a day off from filming to enjoy the festival and was at work again early yesterday morning.
The long hours showed on Jennifer's tired face and she looked.
The day before many of Jennifer's closest friends in Hollywood celebrated the season with an egg-hunt at the Malibu home of Hollywood executive Ronald Meyer.
But while Courteney Cox, Kate Hudson, Steven Spielberg and Meryl Streep swapped gossip, Jennifer was in New York.
The 40-year-old has thrown herself into her work since her split with on-off lover John Mayer.
She reportedly dumped him over his obsession with micro-blogging site Twitter.
During her trip to Europe last month, to promote her new film Marley & Me, she was apparently infuriated when the musician claimed he was too busy to return her calls, but found time to update his Twitter page.
The couple had a rocky 11-month romance, with John writing on his Twitter page, just days later, 'this heart didn't come with instructions'.
The movie, which is due to hit cinemas next year, sees Aniston imitate her life in art, playing an unmarried 40-year-old woman called Kassie.
In a desperate attempt to have a family, she turns to a turkey baster in order to get pregnant.
Seven years later, she reunites with her best friend Wally, played by Jason Bateman, who reveals he has been living with a secret.
He tells her that he replaced her preferred sperm sample with his own all those years ago.
Comments
comments