Jennifer Aniston is being linked to actor Bradley Cooper after the pair reportedly flirted up a storm at Tuesday's party for her new movie, Management.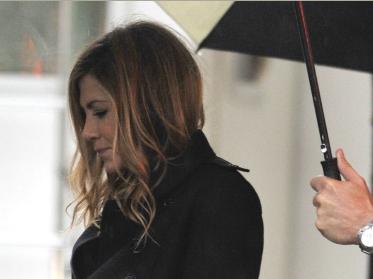 A new report describes how Bradley tried to enter the bash incognito by wearing a rubbish diguise of hat and glasses, before getting cosy with the actress once inside – much to his ex-girlfriend Jennifer Esposito's disgust.
"Bradley and Jennifer [Aniston] were definitely into each other," according to a partygoer.
The source added: "She kept touching his chest and whispering in his ear."
The pair allegedly left the party separately ten minutes apart. Jen was first linked to Bradley back in 2007 after the the actor was a dinner guest at her Los Angeles home.
Meanwhile, Jennifer Aniston was spotted as she hurried through the rain in her flip-flops on the set of The Baster as her bodyguards shield her from the rain on the Upper West Side of Manhattan on Thursday (May 7).
The 40-year-old "Marley & Me actress" recently spoke about the idea of a Friends reunion, saying, ""I don't think [they'll do one]. If they do, they should hurry up! Well, it's been off the air, but you also don't want it to be that reunion show or movie where you see — like when the Brady Bunch had a reunion and they were old."