Rihanna was sporting a sexy snakeskin-print ruffled vest on her way out of her New York City hotel on Thursday (May 7).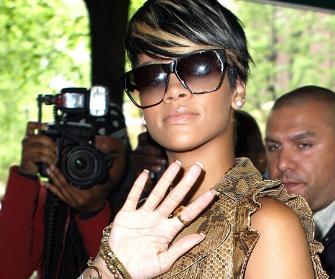 The 21-year-old Bajan beauty had a packed evening last night. After leaving her hotel looking cheetah cheerful, Rihanna attended the opening of designer Derek Lam's boutique. She then grabbed dinner at Da Silvano restaurant and then headed to club Mr. West in Chelsea.
Rihanna had come out to Mr. West to support pal Katy Perry as she celebrated the release of her "Wakin' Up In Vegas" music video.
Meanwhile, new developments in the Chris Brown alleged battery case as Brown's attorney, Mark Geragos formally filed a motion late Wednesday in the Los Angeles Superior Court seeking access to internal LAPD records. Geragos says he believes that the photo of a badly beaten Rihanna was illegally leaked to the media by an LAPD Officer — is harmful to his client — and could lead to the case being dismissed.
Geragos states in the new motion that Rihanna, whose real name is Robyn Fenty, was very concerned about information being leaked to the media.
Prior to the photo being leaked to TMZ the motion states, "Ms. Fenty requested that the police reports related to this incident be kept confidential, and a Request for Confidentiality of Information was completed."
However, that wasn't enough to protect her privacy as an alleged crime victim. Geragos states, "I'm informed and believe that on or about February 19, 2009, a photograph taken by the LAPD depicting physical injuries on Ms. Fenty's person was illegally leaked to the media. Specifically, I am informed and believe that this highly prejudicial photograph was sold by an LAPD officer to the entertainment website, TMZ. The photograph was immediately viewed by hundreds of thousands of viewers and was displayed on every news channel for several weeks. In fact, the photograph still remains on the TMZ website. The purpose of the leak was necessarily for profit and to vilify Mr. Brown and poison the potential jury pool."
Sources close to Chris Brown tell RadarOnline.com that ongoing plea talks with the district attorney are moving forward, but there isn't a resolution, yet. Chris Brown's preliminary hearing is scheduled for May 28th, 2009.
Comments
comments