Jennifer Aniston was spotted surveying paparazzi pictures of her posing with John Mayer at the Vanity Fair Oscars bash, according to reports.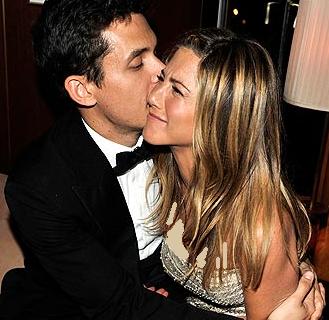 The former Friends star was quite happy to pose for photos with her beau, but according to onlookers, the actress was insistent that the snaps were given her stamp of approval before she left.
A report suggested that when Jen was done giving them the go ahead, she dashed inside to join the party, leaving John alone.
Staying true to form, Jen made another quick exit earlier in the evening after giving an interview alongside John for the Oprah Winfrey show.
The celebrity couple faced cameras as a couple for the first time on Sunday night at the Oscars, with Aniston telling Gayle King they were 'very happy' together.
Speaking to the couple, King recalled how Mayer, 31, told her at an event earlier that he had grown up watching her as a news anchor.
"He said that to me too," Aniston, 40, joked.
Can I say it's good to see you two out together publicly, King added.
"I think that's big. Are you both happy?" King asked.
"Very happy," said Aniston.
After the Oscars, the couple hit the Vanity Fair after party, where they locked lips several times through the night, according to a report.
Comments
comments