Los Angeles seemed a "City of Love" on Thursday night, as John Mayer and Jennifer Aniston stepped out together to attend Ray LaMontagne's concert at The Wiltern.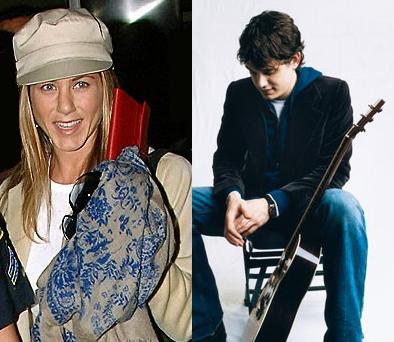 The celebrity couple relived their first reunion date back in Oct. 10, when they saw LaMontagne – who happens to have the same manager as John – in concert at the Opera House in Boston. On Oct.17, Mayer blogged about how "brilliant" the folksinger is, and encouraged others to listen to his music.
The paparazzi presence outside the theatre did not put a damper on the romantic date. The couple, accompanied by two bodyguards and three other women, apparently had the entire row in the VIP section blocked.
An eyewitness revealed: "After the lights went down, they walked to their seats." The source added: "They were hugging, but there wasn't any kissing."
Another report suggested that the two were hugging and kissing throughout the show.
John Mayer, who shares his manager with LaMontagne, wrote in his blog: "I think Ray LaMontagne is as brilliant as any artist that has ever lived. Wait, let me think about that again. That came off pretty bold. Nope, that's still what I want to say. Ray LaMontagne is as brilliant as any artist that has ever lived."
Perhaps the rocker was in love with Ray LaMontagne's music so that he decided to take Jennifer Aniston to the LaMontagne concert at The Wiltern on Thursday, October 30.
Comments
comments