Jennifer Aniston and John Mayer are reported to have spent Aniston's birthday on February 11 and Valentine's Day in the Bahamas.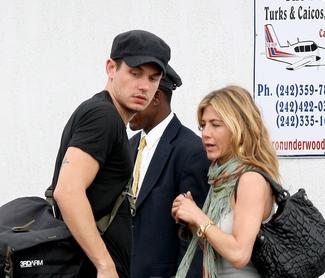 The couple was spotted on the sunny beaches of the tropical islands by photographers. Meanwhile, Mayer appears to have been playing games with the tabloid press posting misleading tweets suggesting it's life as usual for him.
Aniston, 40, and Mayer, 31, have not been seen in public for several days. They reportedly left for the Bahamas onboard a private jet on Thursday, February 12, following Aniston's second birthday party (The first was on February 7).
They stayed at a super luxurious home on the north of the island and spent most of their time indoors, occasionally soaking in the sun on the adjacent white sand beach.
The couple left the Bahamas in separate jets on Monday.
A photographer revealed: "Jen looked really upset to be leaving John. John leaned in to kiss Jen but, should I say it, he seemed to be 'not that into her'! Not really, though. They were a cute couple, but Jen appeared to be much more concerned about separating from her boyfriend than John did. John always keeps his cool."
A source dished the scoop about the trip was a Valentine's Day present from John: "John decided to surprise her on her 40th birthday, by telling Jennifer he had organized a romantic getaway for the two of them for Valentine's Day. Jen usually goes to Cabo or to Hawaii so the Bahamas was something new for her."
The pair stayed in a super luxurious home on the north of the island – the same island where Mariah Carey owns a house and where she and Nick Cannon were married last year. The pad is in an exclusive gated neighborhood on the island, and is directly on the white sand beach.
The conclusion: Jennifer Aniston and John Mayer were spotted as they jetted off from the Bahamas today after a three-day weekend there following Jen's 40th birthday, and coinciding with Valentine's Day, of course!
Comments
comments