Despite their separate and tight schedules, Jennifer Aniston and John Mayer stole time together in Amsterdam on Monday, June 23.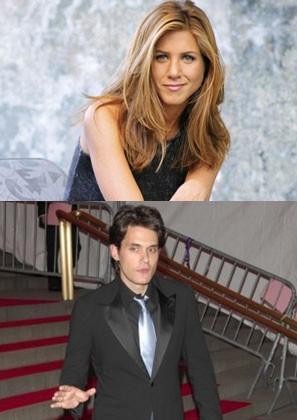 John Mayer is on a 10-night Europe tour that started in Denmark. After his performance in Amsterdam on Sunday, the singer stayed on in Amsterdam to be with [Jennifer] Aniston, who was there to promote her film "Marley & Me" at the 2008 Cinema Expo, along with costar Owen Wilson.
After spending time together on Monday, John Mayer left for the UK Tuesday afternoon, and Jennifer Aniston followed him there on Wednesday in a private jet.
John Mayer left the US for his tour Wednesday, June 18, after enjoying a romantic dinner with Jennifer Aniston in Beverly Hills, the night before. He will not be back till early July.
Jennifer Aniston flew out to UK on Saturday, June 21. The 39-year-old actress was romantically linked with Mayer, 30, when the two were first spotted together at Michael's restaurant in Miami, Florida, on April 25. Since then they have been seen together frequently and Aniston has introduced Mayer to her close friends, Courtney Cox and her husband David Arquette. The couples have double dated on an occasion.
The list of women that John Mayer has dated is long and includes Jennifer Love Hewitt, Jessica Simpson, Minka Kelly. John Mayer, however, dispels the notion that he is a philanderer.
He recently said, "All I can tell you is that I have made every decision in my life with complete authenticity. My feet are firmly on the ground. If you do things from the heart, it feels awesome."
He also prides himself in being a gentleman. After he broke off from Kelly, and before news broke that he was dating Aniston, he called up Kelly to tell her that he was dating Aniston. He told her, saying, "Sorry, but I'm really in love."
Comments
comments