Jennifer Aniston was seen during a gig on the European leg of boyfriend John Mayer's tour Friday and was there again Saturday at the Hard Rock Calling concert in London.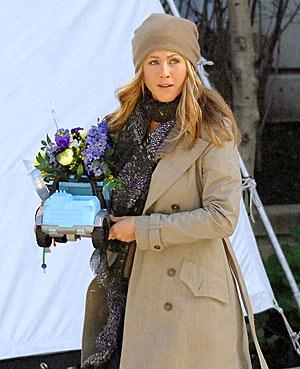 An onlooker revealed, "She was on the side of the stage and really couldn't be seen by anyone. John didn't make any call-outs to her during the Hard Rock Calling show, but she was seen hanging out with him in the Artist Area before and after his performance."
On Friday, Jennifer Aniston arrived at side entrance of his show in gritty Brixton, south London, around 8.30 p.m., looking casual in dark blue jeans and stepping out of a red Range Rover.
During that two-hour set, which included "Why Georgia," [John] Mayer made some jokes specially targeted for the British audience, sprinkling his remarks with such beer-y references as "cheers" "have a pint."
At one point, he said, enigmatically, that "every relationship someone steps into might some how shake you up a bit. So I'm gonna take my time a little bit."
Fans outside the gig said they had seen Jennifer Aniston sitting in an upper level, playing with her hair watching the singer, and she and Mayer were seen leaving around 11:30.
Earlier this week, the couple had been united in Amsterdam, where she was promoting the upcoming "Marley and Me" (with Owen Wilson) and John Mayer was performing.