Jennifer Aniston almost dished all the pot of her new film after the actress accidentally left her movie script behind after a restaurant date.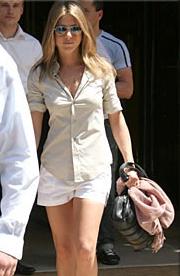 The "Break-up" actress was discussing her top secret movie entitled "Management" with her co-star Steve Zahn and a producer over lunch at restaurant Olea in Portland, Oregon. And when she got up to leave, she left the film's script on her seat.
It is a good thing that a waitress has found the papers later in the day and handed them to her manager, who promptly contacted the aides of the actress to let them know about the incident.