Jennifer Aniston bounded past the finish line with $27 million in the bank in 2008, a cool $13 million more than her arch nemisis Angelina Jolie, according to a new report.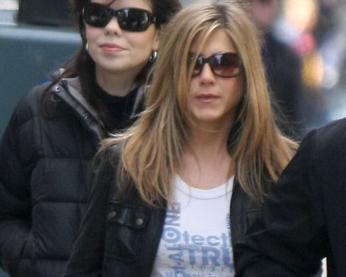 But the former Friends star was far from first place in the celebrity rat race – super-couple Beyonce and Jay Z clinched the top spot by earning a staggering $162 million between them in 2008.
In a list of top celebrity earners put together by Parade magazine golf champion Tiger Woods scooped $125 million alongside New York Yankee Alex Rodriguez who bagged $34 million.
30 Rock's Tina Fey earnt $4.6 million, comedy king Will Ferrell took home $31 million, and Grey's Anatomy star Patrick Dempsey made $3.5 million.
Amongst the lower celebrity earners were Britney Spears who only pocketed $2.25 million and Alaskan Governor Sarah Palin, who made a measley $125,000.
Comments
comments