Shia LaBeouf will never regain full use of his injured hand.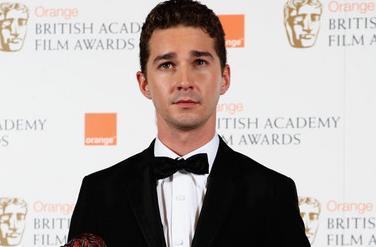 The 'Transformers' actor hurt his left hand in a car accident last July and has revealed that despite several rounds of surgery it will never be fully repaired.
Asked how much mobility he would regain, Shia replied: "Probably about 80-something per cent. I'll be able to make a fist again. There's a knuckle I'll never be able to move again, but that's probably the only permanent damage, other than the scarring.
"I'm on my third surgery. My middle finger is still crooked as a noodle, so they've got to straighten it out and put a screw in it. They shaved a piece of bone off my hip and made a bone for my finger out of it."
After the West Hollywood crash, the 22-year-old star refused a breathalyser test and was cited with a misdemeanour driving under the influence (DUI).
It was eventually determined the accident was caused by another driver going through a red light and the Los Angeles County District Attorney decided against prosecuting Shia due to lack of evidence.
However, his driving license was suspended for a year in January due to his decision not to be breathalysed.
Shia was shooting 'Transformers: Revenge of the Fallen' when the incident occurred, and admits returning to work was one of the most difficult things he has ever done.
He explained to Entertainment Weekly: "It's hard to do anything. It's hard to button your pants or brush your teeth, let alone jump off a three-story building into a pad. This movie was the most physical thing I've ever had to do, and I had to do it with a broken hand. It's the hardest thing I've ever had to do in my life."
The actor has his 'Indiana Jones and the Kingdom of the Crystal Skull' co-star Harrison Ford to thank for encouraging him to go straight back to filming.
He said: "Harrison called me on the phone and said, 'Hey, are you OK?' I said, 'Yeah, I'm good.' He said, 'Well, then you need to get back to work.' I said, 'Are you serious?' He said, 'That's the way this cookie crumbles.' So I went back to work. The show doesn't stop for anybody."
Comments
comments