From the day she first started dating Brad Pitt, the ups and downs of Jennifer Aniston's love life have been the stuff of magazine covers around the world.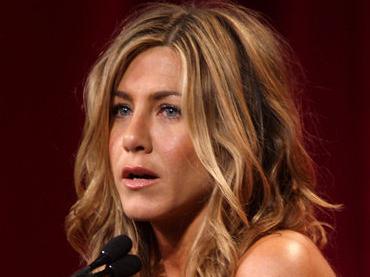 And while the actress has always attempted to take the high road when it comes to making her private life a public matter, she's not above occasionally poking a little bit of fun at herself.
At Friday night's Women in Film Crystal and Lucy Awards, where the former Friend was honored with the Crystal Award for Excellence in Film, Jennifer couldn't help but point out the recent parallels between her romantic roller coaster and the titles of the films she'd been in.
"I really am doing my best to live up to your amazing examples with the work I have been so lucky to do," she told her fellow actresses in the audience. "However, I'm trying to be a little more careful about the titles. I kinda noticed, a couple years ago that, there seemed to be this strange parallel between the names of the movies and my life off, going back it started with The Good Girl and then Rumor Has It and followed by Derailed… then The Breakup then on the lighter side there was Friends with Money which I thought was on the nose."
Making a plea to casting directors (and perhaps matchmakers!) in the audience, she added: "If anyone has a movie called Everlasting Love With an Adult Stable Man, that would be great! I'm at table six, and my agents are at table 12."
Comments
comments