Jennifer Aniston went face to face with Angelina Jolie and Brad Pitt at the 81st annual Academy Awards Sunday in Hollywood. It is first time all three have been in the same room since Pitt and Aniston split in 2005.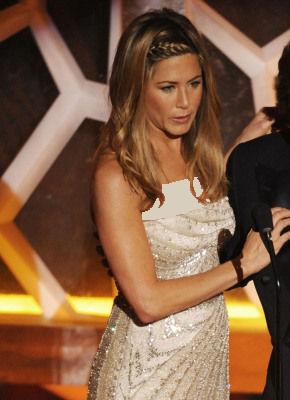 Along with Angelina Jolie's Kung Fu Panda costar Jack Black , the Valentino-clad Aniston (who skipped the red carpet at Sunday's show) presented Best Animated Feature.
They originally stood to the side of the stage.
When Black made a joke about how all Pixar films win Oscars, Aniston said: "I apologize Mr. Katzenberg [Jeffrey Katzenberg is the co-founder of Dreamworks], I don't know why we let him out of the house."
The camera then panned to Angelina Jolie, who laughed.
When Jennifer Aniston announced the nominees, she moved to the center of the stage, right in front of Jolie and Pitt. When the lights were down, Aniston smiled directly at Pitt, but not at Jolie.
Aniston then presented Best Short Film; both Pitt and Jolie kept huge smiles on their faces the entire time.
As Aniston walked off stage, Jolie and Pitt both clapped.
Black told afterwards: "Jen did fine. She's a pro!"
Aniston and her date for the night, John Mayer , sat behind and to the side of Pitt and Jolie.
Asked earlier in the night if she was nervous, Aniston responded: "Yes!"
Comments
comments