Jennifer Aniston's latest movie "Marley & Me", a comedy about a couple and their dog, recently hit the number one spot in the American box office.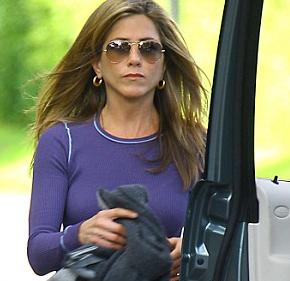 So it was it was a strange case of life imitating art when the actress got caught up in her own doggy drama over the weekend.
The famous animal-lover dashed to the rescue of a Los Angeles' resident's pet pooch after it escaped from its home.
The 39-year-old actress was driving along Sunset Boulevard in Beverly Hills when she was spotted a Husky running loose along the busy road.
The quick-thinking star quickly pulled over to a side road and jumped out of the car, slowly walking towards the dog.
Aniston, who owns several dogs herself, managed to coax the animal into calming down and standing still, giving her the chance to hold him by the colour.
An onlooking paparazzo, who had seen the dog escape, went to the home to alert the owner.
Perhaps the dog's owner was surprised when they realized it was Jennifer Aniston who had saved their dog from becoming potential roadkill.
Promoting her latest film Marley & Me around Christmas, Jennifer Aniston spoke about the special bond she shares with her dogs Norman and Dolly, saying: "[My dogs taught me about] patience and that sort of unconditional love – they're yours and especially you are theirs."
She added: "Men come and go but there really is no relationship like the one you have with a dog – and then they don't live as long as they should. You have to say goodbye way too soon. It's just so sad. It makes me so sad. But their love is unconditional and I love that."
Comments
comments