Jennifer Aniston is reportedly so desperate to find another man following the demise of her romance with John Mayer that she's asking friends to find her a date.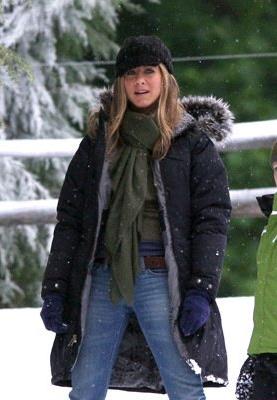 According to an insider, who is close to the actress, Jennifer Aniston won't be taking time out to feel sorry for herself after her latest heartbreak.
An industry source revealed: "I got a call from someone very, very close to Jen over the weekend, asking if I knew anyone who might want to go out on a date with her."
The source continued: "They weren't being very discreet about it – the news hadn't even broken yet that she and John split. You'd think of all people, Jen Aniston wouldn't need to use people in her camp as a dating service."
Meanwhile, John Mayer defended Jennifer Aniston and described their recent breakup as "the most normal thing in the world" as he spoke to a group of photographers in the SoHo area of New York City Saturday.
The singer challenged: "If you guys are going to run stuff and run every lie under the sun, have somebody stand up for somebody. Have me as a man who ended a relationship stand here and write some truth. Have me stand up for somebody and write that Jennifer Aniston is the smartest, most sophisticated person I think I've ever met."
The singer added: "She's one of the most lovely people I've ever met in my life and I'm going through something that's a very personal thing and you have to give that up. You have to give everything up because you can't have it all and it sucks."
Comments
comments