Notoriously unlucky-in-love Jennifer Aniston may have cause for renewed optimism now that she has split from musician John Mayer.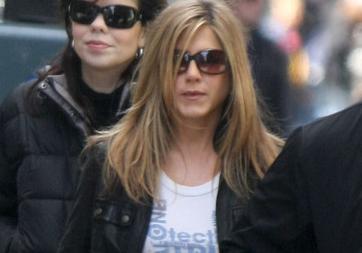 Jennifer, 40, has set her sights on hunky Scottish actor Gerard Butler, who played the muscular King Leonidas in the 2006 epic 300, and plans to star in two back-to-back movies with him.
A source said: "They had a fling at the Toronto Film Festival last year but it was all kept very quiet. Now Jennifer's single again, she's no longer keeping her admiration for him secret."
Jennifer is due to direct and star in Goree Girls, a movie about an all-girl country and western band who become a hit while in jail.
And she has asked Butler to star alongside her. She is also keen to book 39-year-old Butler on another as yet untitled movie later this year.
The source added: "Jen has said they have fabulous chemistry and would be great on screen together. She's put tremendous pressure on her agent to get these projects to go ahead."
Gerard has previously dated Cameron Diaz and Naomi Campbell and is now rumoured to be romancing 26-year-old Bollywood star Priyanka Chopra, a former Miss World.
Comments
comments