Jennifer Aniston was spotted "checking out" a handsome stranger on Saturday (04.04.09).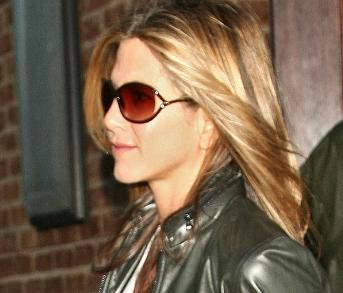 The "Marley and Me" actress, who parted ways with John Mayer last month, showed she was over the musician when a mystery hunk caught her attention at Sir Paul McCartney's concert in New York.
A source said: "She looked really happy. There was a definite glow to her. She couldn't stop smiling."
The source continued: "Jennifer checked out a cute guy walking in. She looked him up and down twice! She flashed him a beaming smile but got pulled back into a conversation with her girlfriends."
The 40-year-old star, who watched Jerry Seinfeld's stand-up routine before arriving at the charity concert, spent the evening laughing with a group of friends.
The source added: "The girls talked for a bit about how elated Jennifer was to have free time again. Jennifer laughed out loud at that, as though it were an inside joke. She was having so much fun. John and their issues seemed like the last thing on her mind."
It has been claimed Jennifer – who had been dating John on and off for around a year – dumped the 'Gravity' singer because he wasn't ready to have children and had been spending too much time on the internet.
She recently admitted she didn't expect their romance to stand the test of time.
Jennifer said: "Who ever said that every relationship has to last forever? That's hoping for too much. I think every relationship is a world unto itself."
Comments
comments