Brad Pitt, Angelina Jolie and Jennifer Aniston were all smiles when they knew the cameras were on them at the Academy Awards on Sunday night, but in two instances, two of the three-headed monster were caught letting their true feelings show.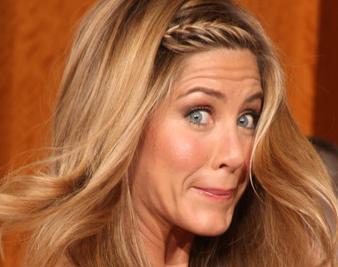 First, as Michael Douglas announced Sean Penn as the winner for Best Actor, Aniston, who was seated directly behind the "Milk" star, showed obvious satisfaction that her former husband, who was also nominated, wouldn't be taking home the honor with an undeniable snicker.
But it also looks like Pitt was caught being less than chivalrous.
When the auditorium erupted into a standing ovation for Best Actress winner Kate Winslet, Jolie, who was also nominated, was quick to stand up. But Pitt stayed seated.
It wasn't until Jolie bent down and seemingly whispered to her man to make a move that he hesitantly rose to feet.
Meanwhile, During the live telecast Jennifer Aniston slightly signaled her head (not once, but twice) directly toward the front-row couple which prompted close-ups of Brad and Angelina, who were obviously well-prepared for the spotlighted moment and had their stick-on-smiles in-place throughout her whole segment.
"It was a bit awkward, everyone was looking and they were trying to play it cool," said an insider, adding that as soon as Aniston left the stage they switched back into normalcy and exchanged a quick whisper.
Comments
comments