Jennifer Aniston celebrated her 40th with an early birthday party on February 7 with boyfriend John Mayer by her side; at blissful peace with her past and future.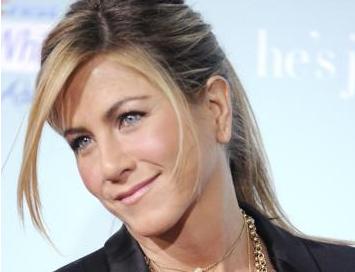 Amidst the close friends who attended the party at her Beverly Hills mansion were Friends co-star Courteney Cox, 44, and 46-year-old singer Sheryl Crow, according to the report.
Just in case anyone had forgotten her youthful nude body from the January issue of GQ magazine, she used specially ordered plates and crystal glasses for the party, with '40 is the new 30′ engraved.
Jennifer and John plan to be on a romantic getaway on her actual birthday, Wednesday, February 11, with rumors that John may propose to her.
The actress revealed in an interview before the party: "I'm not saying I'm 40. I'm thirty-ten! I don't feel 40. At this stage my life doesn't have the traditional framework-the husband, the two kids and the house in Connecticut. It's MY experience. I feel good. I don't feel like I'm supposed to be any further along. . . I'm right where I'm supposed to be."
She clearly carries no baggage from her past and fondly recalls her failed marriage with Brad Pitt, saying: "My split with Brad was the hardest thing I ever went through. But it made me strong, superhuman. Whoever said everything has to be forever? That's setting your hopes too high. It's too much pressure. I still feel so lucky to have experienced it. I wouldn't know what I know now if I hadn't been married to Brad."
She continued: "I love Brad. I really love him and I will love him for the rest of my life. We've exchanged a few very kind 'hellos' and 'wishing you wells' and 'love and congratulations on your babies'. I have nothing but absolute admiration for him, and I'm proud of him. I think he's really done some amazing things."
She hasn't been terribly lucky with her romance, but prefers to look back at them with humor, not rancor.
She went on: "Over the years I've gone for each type of man. The rough guy, the nerdy, sweet, lovable type, the slick guy. Men in general are a good thing, I think-as long as they're not crazy!"
What she obviously would like to focus on is the joy of her current romance with John Mayer, nine years her junior.
She explained Mayer is just that friend: "In a man I look for a friend, someone who is an equal and with whom I'm comfortable. I want to be loved, happy and not settle for something less. But I feel seriously protective of John and us. He's a wonderful guy. We care about each other."
She added: "And I had no idea what an extraordinary musician he is. It's just great to sit and be witness to that. He's a rare one. He is extraordinary and it's wonderful to watch him. . . beautiful. We love just being able to go to a great restaurant, have a great conversation and walk on a beach."
Comments
comments