Playing a florist, Jennifer Aniston helps motivational speaker Aaron Eckhart to come to term with his wife's passing in a romantic drama 'Love Happens'.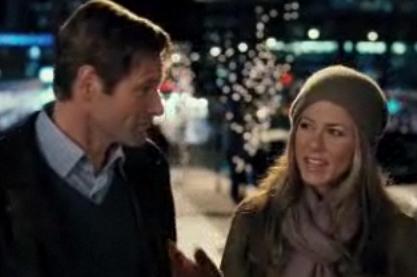 A first look into Jennifer Aniston's latest romantic drama "Love Happens" has been unraveled through a brand new trailer for the movie. This sneak peek into Brandon Camp-directed drama is premiered via Yahoo! Movies, and previews how Aniston and Aaron Eckhart become entangled in a romantic relationship.
The movie follows a widower who is reinvented into a charismatic self-help guru after his book about grieving turns him into a phenomenon. When he arrives in Seattle to teach a sold-out seminar, he unexpectedly meets and falls for a florist coming across his seminar. Not yet done grieving for the passing of his wife, his romantic engagement with this woman forces him to confront the fact that he hasn't come to grips with his own loss.
Formerly known as "Brand New Day and Traveling", "Love Happens" teams up "The Dark Knight" actor Aaron Eckhart and "The Break-Up" star Jennifer Aniston as the widower and the florist. They are supported by a cast ensemble that includes Martin Sheen, Judy Greer and Dan Fogler. Helmer Brandon Camp co-writes the script along with Mike Thompson. This flick is set to be released in the U.S. on September 18.
Comments
comments